Welcome From The Chair
Rainu Kaushal, M.D., M.P.H.
Professor and Chair
The Department of Healthcare Policy & Research, formerly Public Health, concentrates on studying and improving healthcare delivery to optimize the value of healthcare for patients in New York and across the country. It is chaired by Dr. Rainu Kaushal, an expert in healthcare quality, patient safety and information technology.
Read More
Dr. Rainu Kaushal Named One of Crain's Notable Women in Health Care
Dr. Rainu Kaushal, chair of the Department of Healthcare Policy and Research at Weill Cornell Medicine and physician-in-chief of healthcare policy and research at NewYork-Presbyterian/Weill Cornell Medical Center, has been named one of Crain's inaugural Notable Women in Health Care in New York City.
Read more here.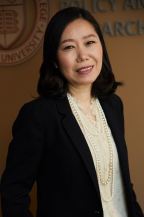 Dr. Arian Jung, Recipient of K01 Career Development Award from the National Institute on Aging
Dr. Arian Jung, assistant professor of Health Policy and Economics in the Department of Healthcare Policy and Research, was recently awarded a K01 career development award from the National Institute on Aging to study the quality of physician care for nursing home residents with Alzheimer's disease and related dementias (ADRD).
"Seventy-five percent of people with Alzheimer's disease and related dementias will be admitted to nursing homes by the age of 80, compared to 4% of the general population, and approximately 70% of individuals with ADRD will die in these facilities," states Dr. Jung.
Read more here.
Dr. Fei Wang Wins Early Career Development Award from National Science Foundation
Dr. Fei Wang, an assistant professor of healthcare policy and research at Weill Cornell Medicine, received a Faculty Early Career Development Award from the National Science Foundation for his work developing computer models used to predict disease.
Dr. Dhruv Khullar: The Largest Health Disparity We Don't Talk About
Americans with depression, bipolar disorder or other serious mental illnesses die 15 to 30 years younger than those without mental illness — a disparity larger than for race, ethnicity, geography or socioeconomic status. It's a gap, unlike many others, that has been growing, but it receives considerably less academic study or public attention. The extraordinary life expectancy gains of the past half-century have left these patients behind, with the result that Americans with serious mental illness live shorter lives than those in many of the world's poorest countries.
Read more here.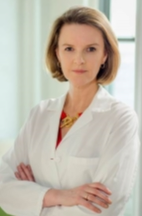 Dr. Geraldine McGinty elected 1st Woman Chair in ACR history
Dr. Geraldine McGinty, a renowned leader and expert in health care strategy and economics, has been elected Chair of the American College of Radiology (ACR). She is the 1st woman to be elected to the position in the ACR's 95 yr history.
Read more here.
Student Public Health Prize Winners Named
Each year the medical student recipients of the Public Health Prizes (which they receive during commencement) get their photos posted on the department's website with a description of the prizes. This year's winners and the descriptions are as follows:
Sasha Hernandez and Anna McKenney will share the Elise Strang L'Esperance Prize in Public Health, awarded to the female student(s) in the graduating class who best reflects the attributes and values of Dr. L'Esperance, who served on the faculty of Cornell University Medical College for over forty years.
Eric Kutscher and Paul H. McClelland will share the George G. Reader Prize in Public Health, which was endowed in 1992 by friends and colleagues of Dr. George Reader ('43), who served as Chairman of the Department of Public Health from 1972 to 1992. A cash prize is given to the graduating student(s) who, in the judgement of the Department's faculty, shows the most promise in the field of public health.
Congratulations to this year's winners!
Dr. Khullar: Donald Trump Wrote His Own Medical Report. Reckless Language Makes That Obvious
In medicine, language is supposed to be cautious and precise, the opposite of the political hyperbole that infects Donald Trump's words.
Read more here.
Dr. Casalino: Examining new approaches, solutions in healthcare
Dr. Lawrence Casalino discusses his goals for The Center for the Study of Physicians Practice and Leadership, a collaboration between Weill Cornell Medicine and The Physicians Foundation.
Read more here.
A New York telehealth visit likely saves a heart patient's life
A man walking in off the street to a drug store in Manhattan got key advice from a digital doctor visit that in all likelihood saved his life. In this case, it was by seeking treatment before having a fatal heart attack after a NewYork-Presbyterian/Weill Cornell Medical Center doctor during a telehealth session diagnosed the patient as having congestive heart failure.
Read more here.
Residents with Realistic Expectations Less Likely to Leave
Continuing coverage on Dr. Heather Yeo's study, published in JAMA Surgery, which found that surgical interns with realistic expectations of the demands of residency and life as an attending may be more likely to complete their training.
Read more here.
Dr. Dhruv Khullar: We're Bad at Evaluating Risk. How Doctors Can Help
Medicine's decades-long march toward patient autonomy means patients are often now asked to make the hard decisions — to weigh trade-offs, to grapple with how their values suggest one path over another. This is particularly true when medical science doesn't offer a clear answer: Doctors encourage patients to decide where evidence is weak, while making strong recommendations when evidence is robust. But should we be doing the opposite?
Research suggests that physicians' recommendations powerfully influence how patients weigh their choices, and that while almost all patients want to know their options, most want their doctor to make the final decision. The greater the uncertainty, the more support they want — but the less likely they are to receive it.
Read more here.
Dr. Lawrence Casalino: Technical Assistance for Primary Care Practice Transformation: Free Help to Perform Unpaid Labor?
This issue of the Annals of Family Medicine includes multiple articles reporting early information from the implementation of the US Agency for Healthcare Research and Quality (AHRQ) initiative EvidenceNOW: Advancing Heart Health in Primary care. This $112 million initiative—one of the largest in AHRQ's history—funds 7 cross-organizational collaboratives to assist 1,500 small (fewer than 10 clinicians) primary care practices to improve their care for cardiovascular disease. Meyers et al1 provide thoughtful explanations of the ways in which AHRQ designed EvidenceNOW to navigate the trade-offs between implementation (including permitting flexibility and local adaptation) and rigorous evaluation.
Read more here.
The Physicians Foundation and Weill Cornell Medicine Launch New Center to Study Physician Practice and Leadership
A new research center launches today with the goal of empowering and supporting practicing physicians as they seek to improve care for their patients while navigating today's complex healthcare landscape. The Physicians Foundation Center for the Study of Physician Practice and Leadership at Weill Cornell Medicine (CPPL) is embarking on an initial five-year initiative to document challenges facing physicians in medical practice and define practice models that help physicians to provide high-quality and high-value care to patients. The Center is made possible by a grant from The Physicians Foundation, a non-profit organization seeking to empower physicians to lead in the delivery of high-quality, cost-efficient healthcare, and contributions by Weill Cornell Medicine, one of the top-ranked clinical and medical research centers in the U.S.
Read more here.
RBMA 2018: McGinty Looks Back, Gears Up
Dr. Geraldine McGinty leads a session at the Radiology Business Management Association's 2018 PaRADigm conference, where she discusses her experience in the field, payment models, AI and related data-science opportunities, and advice to radiologists.
Read more here.
Mark Zuckerberg Disagrees with Nobel-Winning Economist on the Key to a Happy, Fulfilling Life, Dhruv Khullar on a sense of purpose and having an overall healthier life
Mark Zuckerberg says he wakes up every morning and thinks to himself, "I don't have much time here on Earth," so "how can I make the greatest positive impact that I can?"
Instead of viewing life as a series of choices between having fun or being productive, Zuckerberg says there is a better way to look at life.
Read more here .
Fierce Healthcare Sharing Services: A Survival Tactic for Small Physician Practices
Drs. Lawrence P. Casalino and Dhruv Khullar's viewpoint, published in JAMA, discusses how physician practices are experimenting with ways to pool resources across groups while maintaining their independence given the current healthcare environment that is moving toward accountable care organizations (ACOs) and population health management.
Read more here.
Follow @WCMhpr
Upcoming M.S. Webinars
Join us for an upcoming morning, lunchtime, afternoon, or evening webinar to learn more about all of our programs!
Apply for our graduate education programs today!
The Department trains the next generation of leading researchers and practitioners through our programs in health informatics, health policy and economics, and health analaytics.
Application Deadline: April 06, 2018
Preventive Medicine RIPS
First and third Tuesday of every month
C2 Conference Room
402 East 67th Street
New York, NY 10063
NIH All of Us Research Program
The All of Us Research Program is a historic effort to collect data from one million or more people living in the United States to accelerate research and improve health, building one of the largest health databases. By taking into account individual differences in lifestyle, environment, and biology, researchers will develop precise medicine and treatment paths catered to you. This is a collaborative consortium project in partnership with NewYork-Presbyterian, Columbia University Medical Center, and Harlem Hospital.
NYC-CDRN Receives Funding for Phase II Work
The NYC-CDRN has been approved for a three-year, $8.5 million funding award by the Patient-Centered Outcomes Research Institute (PCORI) as part of the second phase of the development of the National Patient-Centered Clinical Research Network.
CHERISH is a multi-institutional Center of Excellence, funded by the National Institute on Drug Abuse. The Center's mission is to develop and disseminate health economic research on healthcare utilization, health outcomes, and health-related behaviors that informs substance use disorder treatment policy and HCV and HIV care of substance users. The Center is a collaboration among Weill Cornell Medicine, Boston Medical Center, the University of Pennsylvania, and the University of Miami Miller School of Medicine.
MDEpinet
MDEpiNet is a global effort bringing together all parts of the medical device ecosystem to build a national medical device evaluation system. As a Public Private partnership, MDEpiNet is working to improve and integrate real-world data infrastructure, develop appropriate methodologies, and conduct studies to improve patient-centered outcomes for medical devices around the world.